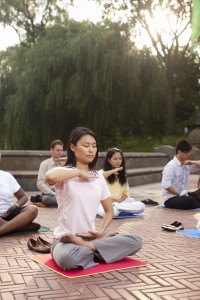 Traveling on it's own is a beautiful experience. There is nothing more satisfuying and more magical than being somewhere where you've never been before.
But when we think about traveling, we usually don't imagine ourselves alone. Traveling, especially if you are a woman, means relaxing time but with company of a good friend, family member or a partner.So, what happens when you take a leap of faith, and go of wandering by yourself? Here are a few advantages of this kind of adventure!
---
BREAKING OUT OF YOUR COMFORT ZONE!
If you are a shy or "always relying on someone else" person, this kind of travel will definitely help you feel more confident in your own abbilities. You will have no other choice, but to talk to strangers and get yourself out there. The best part of that, is that at the end of the day you will be richer for whole lot of stories you hear from all these different people.
GIVING ROMANCE A CHANCE
Since you are already alone, you might as well see what's out there. Maybe you are traveling to a beautiful and romantic place, like France or Italy, and you soulmate is just around the corner. Without your friends or family, you will be able to concentrate on yourself, and your needs. So, if the right one comes along on this kind of journey, you will have all the time of the world (or at least those few days) to experience a little romance on the way.
SAYING YES TO ADVENTURE
Without anyone around you, to maybe tell you that something isn't a good idea, you can try everything you never even thought you would. Maybe that will be some new unmentionable food, or bungee jumping, parachuting or something even more risky. I promise, you will have tone of stories to tell when you get home.
TREAT YOURSELF
Spending money without judging looks from your mom, or advices from anyone else? Yes, please. Since you have all that time on your hands, explore local markets. Take your time, and at the end of the day, treat yourself!
DO SOME SCHEDULING
Going for a swim, visiting town center or maybe just relaxing by the pool? No need to ask anyone what they would like to do, just go out and do it. This way you won't be able to say someone forced you to do something, or made you stay in your room for the whole day.
RELYING ON YOURSELF
Prepare those Google-maps and go out on an adventure. Ask locals for directions, and figure things by yourself. I'm not saying this will be easy, but the confidence you get after solving a problem on your own, will be worth the trouble.
I AM FREE!
The best thing about being alone, is feeling free. Sometimes, we all need some time alone to gather our thoughts and think about our lives. This is your time-off from everything and everybody, so enjoy it to the fullest.
FEELING LIKA A CHANGED PERSON
Independence, social prowess or ability to adapt to uncomfortable enviroments are just a few life skills you will gain on the way. By the time you come home you surely won't need anyone to rely on to reach your goals. The sense of confidence in yourself, in your capabilities will make you feel like you are truly a new person!
---